After you've decked your halls and your tree, it's time to take the holiday glow outside. We've rounded up the best sparkle and shine for your home's exterior.
One of my family holiday traditions is to put on our pajamas, fill travel cups with hot chocolate and drive around looking at Christmas lights. My local moms' blog keeps a running list of the best streets and parks, so definitely do a search for "Christmas lights" in your area to see if someone has already compiled the most festive places in your hometown..
You may also like: Best Interior Designs 2023
We love seeing how our neighbors and people around the city decorate, but of course, we also need to deck out our own home.
How to Choose Outdoor Christmas Lights
Start your outdoor Christmas light search by deciding whether you'll go with incandescent or LED lights. LEDs cost about twice as much as incandescent bulbs; however, they last two to three times longer. They also use 10 percent of the electricity that incandescents do — saving energy and producing less heat, which reduces the risk of fire.
When it comes to brightness, incandescents are a little brighter, but strings of LEDs usually have more bulbs per string, so they give off around the same amount of light. One more checkmark in the LED box is their construction. Made of lightweight plastic, LEDs are less likely to break than glass incandescent bulbs.
The Bulbs
String lights come in a variety of bulb sizes, all of which are available as LED and incandescent. Mini lights — your quintessential Christmas tree lights — are the most popular. C6, C7 and C9 bulbs are strawberry-shaped and the most traditional of Christmas lights. They range in size from 3/4 inch to 1-1/4 inches in diameter.
Where to Hang Outdoor Christmas Lights
Hang your lights in the evening so that you can see the effect they make as you string them. Opt for bigger bulbs, such as C7 and C9, for your evergreen trees and space them about 12 inches. As a general rule of thumb, industry professionals suggest using around 100 lights per vertical foot.
When it comes to decorating your bushes, nets are the easiest and quickest way to add instant glow. And don't forget about your deciduous trees. Wrap mini or rope lights around the bark, which is usually rough enough to hold the strings in place. If the lights start slipping, use strategically placed pushpins to hold them in place. Don't use nails or screws that could hurt the tree.
With all the joy our neighbors bring to our evenings with their stunning outdoor Christmas displays, let's add our own to the mix. Scroll through our dazzling picks to illuminate your home with plenty of Christmas cheer, and then learn the perfect way to hang all your outdoor lights.
The Best LED Lights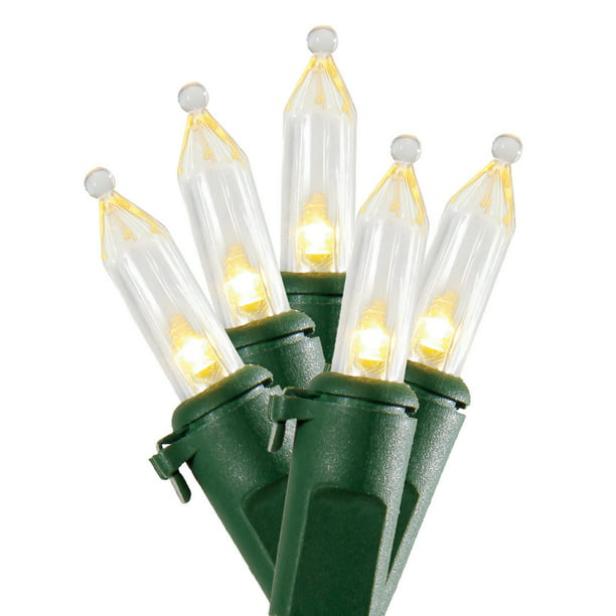 Holiday Time 500-Count LED Mini String Lights
For use indoors or out, these warm white mini lights create a classic glow. The two sets of 250 lights (500 total) have a long-lasting 25,000-hour bulb life, giving you worry-free decorating that will last season after season. The green wire blends in seamlessly with tree branches, and the bulbs stay cool to the touch while shining bright.
The Best Incandescent Lights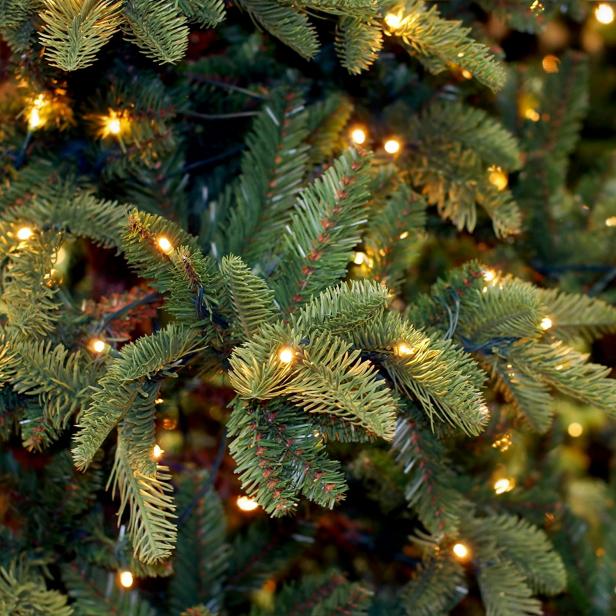 Prextex 100-Count Clear Incandescent String Lights
These indoor-outdoor incandescent string lights come with 100 bulbs, two flasher bulbs, two extra bulbs and two replacement fuses, ensuring years of use and longevity. You can connect up to five sets of lights together to create the holiday display of your dreams.
The Best Colored Lights
These C9 diamond cut bulbs bring a decidedly retro vibe to your holiday decor. Connect up to 20 sets to create an incredible outdoor display without having to find multiple outlets. Each strand is 66 feet in length, and the energy-saving LED bulbs provide up to 20,000 hours of light.
Light Keeper Pro Christmas Light Repair Tool
Instantly repair a burned-out incandescent light bulb with the Light Keeper Pro. This handy tool quickly extracts the bulb and replaces it with a new one. It can also test your lights to make sure they work properly before climbing the ladder.